I posted teaser pictures on my Hyena Cart store,
Little Bear Wear
, but I thought I would share a little more info with my blog readers.
FIJI - Kettle dyed minimally processed farm yarn. I used Wiltons frosting dyes for this.
MIDNIGHT BLOSSOM - Kettled dyed and same yarn as above, but I used a combination of different dyes (Wiltons, Kool Aid, and acid). I have some of the same yarn dyed black to use as trim.
JELLY BEAN - Handpainted single ply worsted weight wool yarn. Dyed with a combination of dyes. I swatched this yarn and it looks just like a bowl of jelly beans.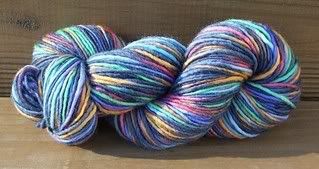 COTTON CANDY - Hand painted worsted weight merino wool using Wiltons. I left sections of the natural wool color between the teal and dark pink, hoping for a softer look. I think it worked :-)
DUTCH WINDMILL - Another minimally processed small farm yarn kettle dyed in shades of blue and brown.
STEEL MAGNOLIA - Hand painted bulky weight yarn. This particular yarn is going to be come a favorite. It has a soft hand and nice sheen. It will make a bullet proof soaker. :-)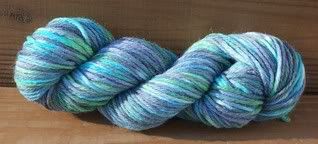 KANSAS PRAIRIE - Minimally processed farm yarn from Canada. Kettle dyed in shades of yellow, brown, and blue.