An idea for storing and organizing all my knitting supplies has been rolling around in my head for a month or so. First I thought about a needle roll but that didn't quite fit the bill. I thought about buying one of
these
but the Dutch girl in me couldn't swallow the price tag. I was instant messaging my knitting friend, Michelle, and she gave me this idea . . .
She has one similar to it that she got in a knitting supply swap but it has more ziploc bags and handles.
It's made from (2) batik fat quarters. The outside is channel quilted to give some depth to the fabric. The inside fabric is interfaced to help support the ziploc bags and pockets. It closes with (3) bronze color poly resin snaps.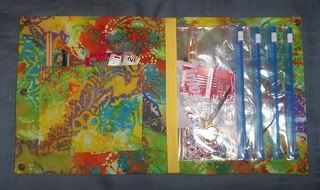 I'm going to perfect my idea while I make one for my sister, who is becoming a knitting junky just like her big sister. What a bad influence am I! ;-) I *might* even sell a few on LBW.