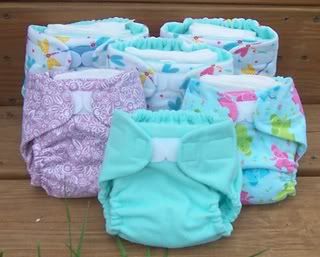 I learned about cloth diapers when I was pregnant with Abigail from my cousin Lisa. She said that they are very easy to sew and that intrigued me because I like to sew. I started researching them on the Internet (
whoa, there is a lot of info!
), bought several patterns, and made my newborn stash. When it was time to size up to small cloth diapers, I decided to try and draft my own pattern. It worked really well so I decided to write a tutorial so that other cloth diapering mamas could do the same. That was over 3 years ago and it's had over 130,000 views since then. =) Over the course of the next few days, I'm going to copy it over to my blog and put a link in my sidebar so it is easy to find.
God Bless,
ERIN