Our house has four bedrooms -- 2 down and 2 up. At the time these pictures were taken, the two upstairs bedrooms were still under construction, so I'll just show you the main level ones.
Before:
After: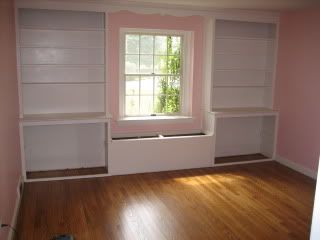 MASTER BEDROOM

Before:
Lovely powder blue sponge painted closet interiors with particle board closet organizers.
Simple lovely ... ah, no!
After:
I think that's it for interior pictures. I have a slew of pictures somewhere on the computer of when we had 22 tress cut down on Memorial Day weekend. Yes, you heard me correctly. TWENTY-TWO trees. And the backyard still looks like a forest. LOL

Love,

Erin